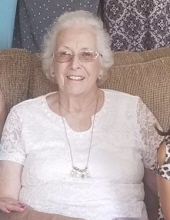 Obituary for Mary Ellen Phillips Potter
Mary Ellen Potter was born December 3, 1937 to Gordon Canal and Ida Hilma Philips in Gadsden County, FL, where she grew up and lived her whole life. She married her sweetheart of 47 years, Mayo Potter, on October 1, 1976. Ellen started her career at the Department of Revenue and later retired from the Florida State Hospital after 25 years.

Ellen was a good Christian woman who loved the Lord. She loved hunting, fishing, and traveling. Ellen and Mayo had traveled to 48 states and Canada. Always going on adventures together, whether to town for milk shakes, taking the dogs for a ride, or across the United States, Ellen and Mayo were always side by side enjoying life. She also loved cooking and baking, along with her knack for having a green thumb, and having fish fries with friends and family!!

Ellen is preceded in death by her father, Gordon Canal Phillips, mother, Ida Hilma Phillips, brother, Bobby Phillips, stepson, Jerry Potter, and son in law, Robert Summers.

Ellen leaves behind her beloved soul mate, Mayo Potter, daughters, Patricia Faircloth and Karen Summers, sons, Michael (Tammy) Smith and Victor (Marilyn) Smith. She will be missed greatly by her 9 grandchildren, 13 great grandchildren, dogs, Jack, Happy, and Sweet Pea, and Prissy the cat. Ellen also leaves behind many friends and other family members, along with her Church family, for which she loved and cherished.

She left this world on August 27, 2022 surrounded by her family. She lived an amazing life and will be greatly missed.

The funeral service will be held Tuesday, August 30, 2022 at 11:00 AM at the Rock Bluff Assembly of God Church with visitation one hour prior to the service.

Charles McClellan Funeral Home, 15 S. Jackson St., Quincy, FL., 850-627-7677, is in charge of arrangements.
Read More